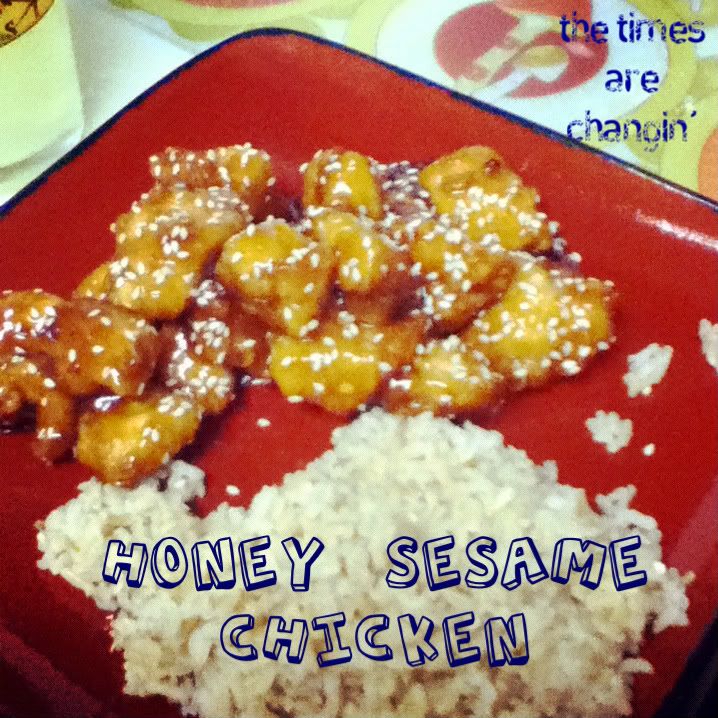 the hubs and i love us some cheap asian-esque food, so i am so excited to say that i have a recipe that is--to our taste buds--just as good as a restaurant (at least the cheap ones). i took a crock pot recipe to make the sauce and i simply fried some chicken and tossed it in the sauce. note: i think i figured out how to mimic Chick-fil-a chicken nuggets...but more on that later. here's the recipe for the sauce. enjoy :)
ingredients
1/2 cup honey
1/4 soy sauce
1/8 cup ketchup
1/4 tsp red pepper flakes
2 garlic cloves, minced
2 tbsp olive oil
2 tsp cornstarch dissolved in 3 tbsp water
sesame seeds
directions
1. heat the honey, soy sauce, and ketchup on medium heat. i used a small whisk to help combine them.
2. add the red pepper flakes and garlic. whisk again.
3. add the corn starch water mixture and bring sauce to boil.
4. stir as it boils until it seems to get to a consistency that you like. (if you want the sauce to be thinker, add more cornstarch.)
5. toss the chicken nuggets in the sauce and sprinkle with sesame seeds.
note about cornstarch: i grew up with a mother who was allergic to corn, so i'm assuming that's why i am just now discovering the magic of creating sauces with cornstarch. for those of you who are also new to the world of cornstarch, let me tell you the most important fact: you have to bring it to a boil in order for the cornstarch to thicken the sauce. the first time i attempted this sauce i royally messed up and made it way too thick. the recipe i was using failed to mention that whole boiling thing, so i kept adding cornstarch. fail. but i have since learned my lesson and i love this new-to-me technique.